Some races aren't PR days and that's okay.
On Sunday, March 15, I ran my seventh half marathon! Way to go me! As happy as I should have been to complete another half, I was initially disappointed. The day before the race I did everything I would normally do to prepare. I was overly careful about not eating spicy foods (my weakness) and made sure to hydrate during the day. For dinner I cooked the same meal I make every night before a race: ground turkey meat, whole wheat spaghetti, marinara sauce, and garlic bread. For dessert I ate a juicy fuji apple and a piece of Cadbury's dark chocolate. I left my husband the rest of the chocolate bar in hopes he would save me some. Wishful thinking…
Race morning: I woke up before my alarm and had this uncontrollable hunger feeling. I wasn't sure if maybe I was nervous about the race or if I was just really hungry. Then it happened. I rushed to the bathroom and threw up. "What the hell is going on? NOT ON RACE DAY!" I tried to get myself together and eat some breakfast. I was literally laying on the floor, forcing myself eat a whole wheat english muffin with peanut butter. I was feeling nauseated and overwhelmingly stressed about having to run 13.1 miles. By the time we got to the race I was feeling better. I even ate a banana.
Then…it happened. Shit happened. I figured I might as well try to go to the bathroom again like I do five million times before we start, but this time, it was different. It felt like my stomach had taken on its own personality and started going zombie apocalypse inside. Of course I was standing in what appeared to be the women's restroom line but was really the men's. That meant there were six stalls, one without a door and about 15 women ahead of me. I started sweating and didn't know if I was going to make it. Luckily I did and rushed to the start line.
During the race: I felt much better and felt like I had started the race strong. I was at a 9:00 minute pace and was starting to think it was going to be a PR day. My best half marathon time is 1:55 and I was secretly trying to finish at 1:50. The first few miles felt great and I was happy with my pace. Then I hit my wall. Around mile six, I started slowing down significantly. I told myself around mile nine that if I felt good I would speed up and power through those last few miles. Well, that didn't happen. During my training runs, I ran at a nine minute per mile pace and trained to speed up on the last few miles during a long distance run. For some reason this morning was different. I felt really hungry by mile eight and had no energy to push myself. By mile 12 I realized a personal record wasn't going to happen and I made a conscious effort to "just" enjoy the rest of the race. I waived to people and I smiled as I finished along the course.
13.1 miles later: Cheering me on at the finish line were my parents and husband. They later told me they were worried about me because of course I told them to be there way too early. It didn't help that we started in waves either-so although the "race" officially started at 7:45, my wave wasn't due to start until 8:00. After the race I felt sick and really wanted to go home. We didn't stick around afterwards with the other runners. I even passed on my complimentary beer treat! I sulked in the car. My husband parked miles away and during our walk I was complaining about how "bad" I had done. I had ran six half marathons before and every time I achieved a PR.
This was a hard pill to swallow. After really thinking about it and eating a large burger, fries and a milk shake, I decided it was ridiculous to be so upset.
I've had to learn with racing that I am not racing against anyone but myself. As a runner, sometimes I feel I've become far too competitive with myself and set my expectations too high. It's nice to have goals but sometimes goals cannot be met right away. I appreciate  this race now and use it as my guide to train harder and stay more consistent with cross training. Like a lot of things in life, running has its good days and its bad days. Learning to appreciate and grow from the bad only makes you a stronger more skilled runner. So, I thank you 2015 Shamrock'n half for motivating me to push myself more!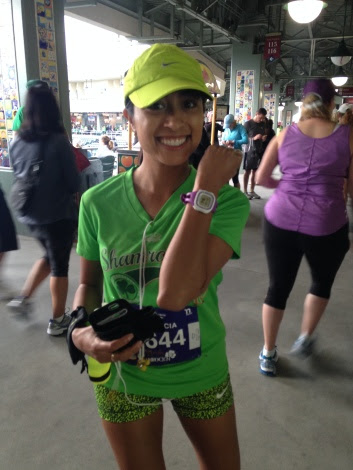 Check out my cool new watch the Garmin Forerunner 15. Too bad I had no idea how to use it during the race. I kept confusing myself if I was looking at my pace or the time. Lesson learned I need to play with my watch before using it!
Here's a photo with my friends before the race! These ladies are amazing! We typically do our long runs together on the weekends and it's always a great time to catch up.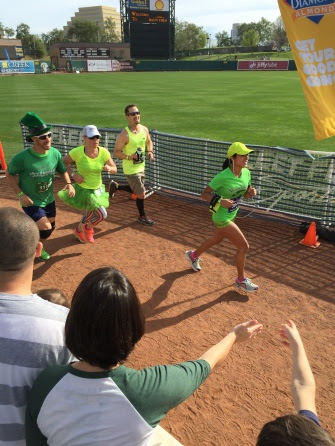 #RunningforCarbs #ByeGirl